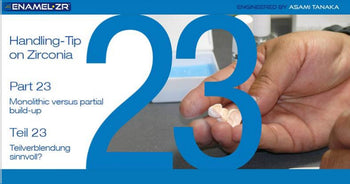 Bei Verwendung von Zirkonoxid-Ronden, die den ästhetischen Ansprüchen von Zahnarzt oder Patient nicht genügen, werden mit einer Teilverblendung die Ästhetik verbessert und mit den monolithischen Anteilen gleichzeitig die funktionellen Eigenschaften von Zirkonoxid erhalten. Der Einsatz von Zirkonoxid-Ronden, die bereits eine natürliche Ästhetik aufweisen, bedeuten eine erhebliche Zeitersparnis. 
Unseren aktuellen Stand bei Zirkonoxid-Restaurationen sehen Sie hier.
In case a zirconia is used, which is not satisfying doctor's and patient's esthetic needs, the partial build-up helps to improve esthetics and the remaining monolithic areas help to support a good function. However, a total zirconia restoration utilizing zirconia blocks with esthetic properties pretty close to natural tooth are improving efficiency drastically.
To see what you can get today regarding monolithic zirconia restoration please click here.