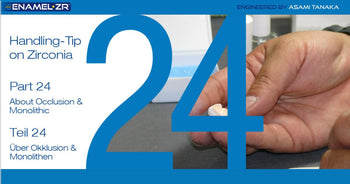 Das Okklusionskonzept von Dr. Asami Tanaka , das seit Dekaden von Zahnärzten und Technikern auf der ganzen Welt angewendet wird, ist unabhängig von der Wahl des Restaurationsmaterials. Die funktionellen Prinzipien bleiben also immer gleich -auch bei Zirkonoxid- und unabhängig davon, ob es sich um eine monolithische oder keramisch verblendete Restauration handelt.
Gelangen Sie hier zu den Gnatho Models von Dr. Asami Tanaka, die sein bewährtes Okklusionskonzept 1:1 veranschaulichen. 
The concept of occlusion by Dr. Asami Tanaka which so many dentists and dental technologists follow since decades is independent from restorative material. Functional principles always remain the same, also with zirconia, no matter, whether monolithic or covered with porcelain.
Get here to the Gnatho Models of Dr. Asami Tanaka, which perfectly demonstrate 1:1 his proven concept of occlusion..